Entertainments
---
Cuba nightlife is a sizzling proposition. A country with this much passion and rhythm is hard to find anywhere else, and when you set the stage with inspiring Cuban music, what you have is nightlife bliss. If you've been taking Salsa dancing lessons and want to put your moves to the test, Cuba has got you more than covered. Don't know how to dance Salsa yet? Venture out to one to any number of dance clubs Cuba offers, and you are bound to find a teacher. Clubs, bars and jazz lounges are just some of the Cuba nightlife options. Talk about a story to tell when you get back.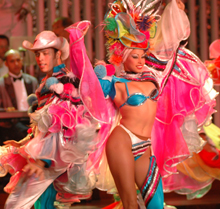 Cabaret Parisien
Hotel Nacional, Calle O, esquina 21.
Open: 9pm – 2am
537 873 4701
The Parisién is located within the Hotel Nacional and benefits from the same rich history. The show is on a much smaller scale than the Tropicana with much fewer dancers, which makes it more intimate and cosy. The dancers are as beautiful as ever, and the costumes, choreography and routines excellent. Make a swift exit shortly after midnight before the comedian begins his routine and the disco gets going.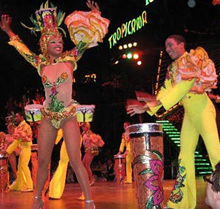 Cabaret Tropicana
Calle 72 # 4504, entre 41 y 43, Marianao.
Open: 8.30pm – 1am
537 267 1717
Opened in 1931 the Tropicana has played host to Benny Moré, Nat King Cole, Jack Nicholson and 'Lucky' Luciano-and many, many more. This is a Vegas-style extravaganza with seating for 1,400 people and 10 performers going through the full range of popular Cuban dance. As you'd expect the dancers are beautiful and the costumes, choreography and routines are excellent, but the food is poor, the show lasts forever and it is seething with tourists. A recent revamp seems to have changed everything and nothing with the basic formula remaining as it has been for years.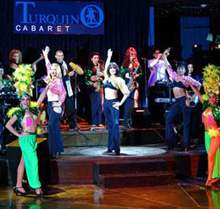 Cabaret Turquino
Habana Libre Hotel, Calle L, entre 23 y 25.
Open: 10pm – 4am
537 838 4011
Definitely a place for posh spice. This is certainly the best view in Havana to watch a cabaret show (there is often a popular band and disco following the show). The room is on the 26th floor of the Habana Libre and has glass all around and a retractable roof. The decor is definitely disco, the drinks expensive and the atmosphere a little less than authentic but with beautiful scenery in any event; definitely worth a visit at least once.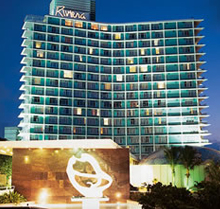 Copa Room
Hotel Riviera, Paseo, entre Malecón y 1ra.
Open: 8:30pm – 3am
537 836 4051
The Copa Room was formerly known as the Palacio de la Salsa and is inside the Hotel Riviera which was built by Meyer Lansky just before the Revolution. The show currently playing is not the best and the décor is a little run down. Some of Havana's best groups do still play there at weekends and it can get busy.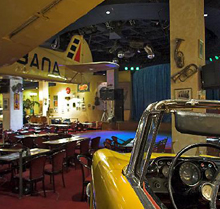 Habana Cafe
Hotel Meliá Cohíba, Avenida Paseo, e.entre 3ra y 1ra
Open: 8pm – 2.30am
537 833 3636
This is where Vincent Vega would get his ten-dollar shake in Havana and although you cannot actually sit inside the Chevy, Pontiac and Buick which grace the interior they do add a 1950′s chic to the place. As you might expect from a spot attached to the Meliá Cohíba this is a top end place with great service, mainly frequented by tourists. When the big Cuban bands such as Van Van and Charanga Habanera play here it is the place to be and queues form early. There are two cabaret shows which play, of which the best is Rakatan which plays several times a week and which has a more contemporary spin to the Tropicana style.