Restaurants
---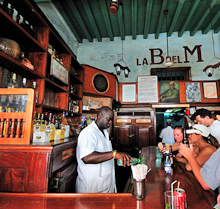 La Bodeguita del Medio
Empedrado # 207., Old Havana
Tel: 537 866 8857
Type: Creole/Caribbean
Open: noon-midnight
The famous restaurant that Ernest Hemingway visited, whose walls are decorated with signatures of celebrities and unknown people, offers you its famous 'mojitos' as well as its 'criolla' food. The actual food is generally a bit of a letdown. The place is worth stopping by for a mohito in the attached bar. The restaurant does retain a certain ambience even though the best tables are reserved for Sammy Davis Junior amongst others.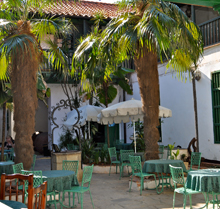 Al Medina
Calle Oficios #12, entre Obispo y Obrapía., Old Havana
Tel: 537 867 1041
Type: Eastern (Lebanese)
Open: noon-midnight
Al Medina opened a few years ago as a Middle Eastern restaurant housed inside a lovely 17th-century building which was formerly a boys school. The menu features a large collection of meze dishes, grilled chicken and other staple Lebanese dishes including falafel and humus. Good for a light lunch or dinner if you fancy a change. The courtyard is very pleasant to eat in.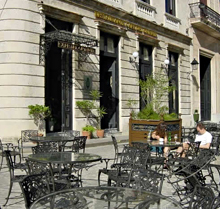 Cafe del Oriente
Calle Oficios #112, corner Amargura, Plaza San Fransisco., Old Havana
Tel: 537 860 6686
Type: Spanish
Open: 8. 30am-midnight
The Café del Oriente is a bit self-consciously grand, but the service is excellent and the majority of dishes very well cooked. The café menu downstairs differs from that of the upstairs restaurant, but if you'd like to see both menus the staff are flexible from serving from either one of them on both floors. In general there's perhaps a tad too much emphasis on fruity additions to savoury dishes, but the Café's Filet Mignon melts in the mouth and the Caesar Salad's the best we've tasted on either side of the Atlantic.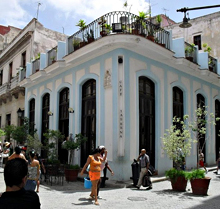 Cafe Taberna
Calle Mercaderes, esquina Brasil., Old Havana
Tel: 537 671 1637
Type: Cuban/Creole
Open: noon-midnight
Located on the corner of Plaza Vieja this restaurant is dedicated to the revered musician Benny Moré. The band, memorabilia and general decor create a lively and popular atmosphere which makes it a good option if you like his music. The food is pretty average with the house speciality of lobster and shrimps typically overpriced and upsold.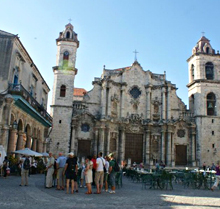 EL Patio
San Ignacio #54, Plaza de la Catedral., Old Havana
Tel: 537 671 1034
Type: cuban
Open: noon-midnight
It is opened facing the 'plaza de la catedral' (cathedral square), that majestic palace with stone columns offers you a nourishing food. El Patio was formerly an 18th-century colonial palace and is located on one of Havana's most picturesque squares (Plaza de Catedral). There is no better place for people watching and is the perfect place for a drink any time of day or night. A good band plays most of the day. Unfortunately the food is somewhat overpriced and unspectacular. If you don't care about the money spend 20 bucks on a pepper steak and sit back and enjoy.